RE at Walsgrave C of E Academy

.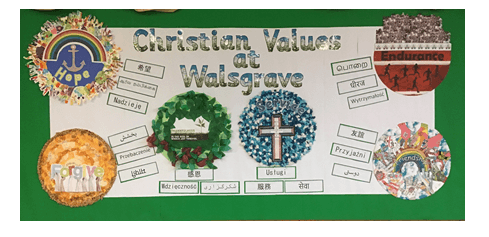 I have come in order that you might have life—life in all its fullness.
John 10:10
Religious Education follows the Coventry Agreed Syllabus. We believe at Walsgrave that Religious Education is an incredibly important part of a balanced and broad curriculum. It allows pupils to consider and respond to important questions, as well as exploring their own spiritual development. We are here to give our pupils an excellent education with a rich and inspiring curriculum, at the same time providing nurture and care for their spiritual/emotional, moral, social and cultural wellbeing.
In Key Stage One the customs and beliefs of two or more religions are compared. In Key Stage Two Christianity, Hinduism, Islam, Judaism and Sikhism are studied in a systematic way so that the children are able to understand the essential elements of these religions. At Walsgrave some aspects of Religious Education are taught through themes e.g. weddings, christenings etc.
Visits to places of worship and speakers in school are a routine feature of our Religious Education lessons.
All teaching is constrained within the Governor's formal statement, as follows:
"We do not seek to convert, persuade or indoctrinate.
Rather, by informing children about the major world
religions we seek to bring understanding, foster tolerance and empathy and develop a feeling of respect and acceptance for all people's beliefs."
A high quality religious education (RE) curriculum is essential to meet the statutory requirement for all maintained schools to teach a broad and balanced curriculum. At the heart of RE in church schools is the teaching of Christianity, rooted in the person and work of Jesus Christ. At Walsgrave C of E academy, we are a fully inclusive community and as such we actively encourage learning about other religions and world views, fostering respect for them.
The aims of Religious Education in Church schools are:
To enable pupils to know about and understand Christianity as a living faith that influences the lives of people worldwide and as the religion that has most shaped British culture and heritage;
To enable pupils to know and understand about other major world religions and world views, their impact on society, culture and the wider world, enabling pupils to express ideas and insights;
To contribute to the development of pupils' own spiritual/philosophical convictions, exploring and enriching their own beliefs and values.
Appropriate to age, at the end of the children's time at Walsgrave C of E Academy, we expect that all children are religiously literate and as a minimum are able to:
Give a theologically informed and thoughtful account of Christianity as a living and diverse faith;
Show an informed and respectful attitude to religions and world views in their search for God and meaning;
Engage in meaningful and informed dialogue with those of other faiths and none;
Reflect critically and responsibly on their own spiritual, philosophical and ethical convictions;
Effective teaching and learning about Religions and World Views.